I lied.


I said no more vacation stories.


I lied.


Chad was tying the boat to the dock and the kids and I were chatting about their fishing trip.


Cole had caught a rather large fish and was showing us just how large.


Of course each time we asked, his hands were wider apart.


He is just like his Father.


While we were talking I asked what happened to his life jacket.


He looked down.


He saw nothing wrong.


Then he proudly announced that he had buckled it himself.


Really?


Are you sure Daddy didn't help?


I guess the teasing got to be too much when Chase and Claire piped in.


Siblings.


Cole walked down the dock, turned around and gave me "the look".


And then he announced he was walking home.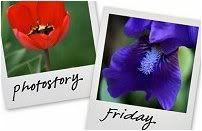 Hosted by Cecily and MamaGeek