I was riding home from an afternoon of blueberry picking with the kids.

I spotted an old run down gas station.


Called Ma's.


They are quite famous for their hot dogs.


I pulled in with the thoughts of greasy pork products swirling around my head.


Then I saw this.


My thoughts went from grease to GAS!


The memories of $.79 per gallon gas were not so far back.


Was it?


Could it be?


Dare I try?


And then I saw this.


Oh well, it was a nice dream.


I just settled for the greasy hotdogs with extra chili.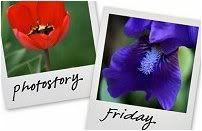 Hosted by Cecily and

MamaGeek