It was a hot, humid Saturday morning.
It was Chase's first t-ball game.
He was 5.
He had on a new pair of cleats.
He carried with him a brand new glove.
It was not broken in yet.
It still had that new leather smell.
He was excited.
We were excited.
The game began.
Chase was in left field.
In more ways than one.
Several balls popped up in his direction.
He made no attempt to catch them.
He would run after them.
He would laugh.
He would make silly faces.
He just wasn't into it.
Sometime in the middle of the game, I felt someone tug at my shirt.
I looked down.
It was Chase.
He was standing with a bouquet of "weeds" he had just picked .
In left field.
For me.
It was a sweet gesture.
I tried to be excited.
But...we were in the middle of a game.
He had just walked off the field.
Poor Chase.
He. did. not . have. a. clue.
Fast forward seven years.
Last night.
It was a hot, humid, almost unbearable evening.
Chase had on a pair of eight week old Nike cleats.
Men's size 10.
They were already well worn and scuffed.
Traces of red clay dirt were present before he ever stepped on the field.
He carried with him a large bat bag.
It housed bats and his catchers equipment.
He was excited about the game.
We were excited about the game.
We love to watch his games.
His
Nana
, Uncle, Aunt and cousins were there.
He came to play.
He did an excellent job behind the plate.
With each game he seems more determined to stop every ball.
No matter what.
He was having a great game.
Yet, nothing prepared us for what happened next.
Chase was up at bat.
I watched my first born get into his "stance".
I hardly recognized him.
He looked taller and older.
He looked like a more mature player.
He was.
The pitch was released.
It was an inside corner change up.
That is what Chase told me later.
Chase's bat made a powerful contact with the ball.
The crack of the bat was loud.
The crowd jumped to their feet.
I heard a familiar voice in the stands.
His Dad's.
"It's outta here. It's gone!"
And it was.
A line drive through center field.
Up and over the fence.
It took a moment to sink in.
My son had just hit a ball out of the park!
His first home run!
I am sure my cheers were the loudest.
I am sure my smile was the biggest.
No, Chase had a bigger one.
As he rounded third base, his teammates and coaches met him at home plate.
High fives were exchanged.
It was then I felt the tears trickling down my face.
Not because he had hit a home run.
That was great.
It was because he had done something bigger.
In an instant, he had changed the way HE saw himself.
His confidence will be forever changed.
He had hit the ball harder and longer than he thought possible.
He had just received acceptance from teammates that he sometimes felt inferior to.
He would not go home and question his skills as a player.
He would not go home and wonder if he did his best.
Or played hard enough.
He would KNOW he did.
I knew that he felt good about himself.
That was better than any home run.
* the picture above...that is THE home run ball!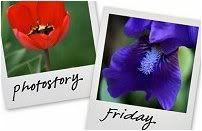 Hosted by Cecily and

MamaGeek