Chase took a nasty fall on a basketball court last Friday.
It looked as if it was mostly external.
Scrapes and bruises.
Nothing a little Tylenol wouldn't fix.
Fast forward five days.
He still couldn't throw a baseball or do a push up.
The chiropractor said something about it feeling "spongey".
I don't like that word.
Especially when discussing my sons elbow.
We were worked into the Bone and Joint Office.
Which meant 3.5 hours of waiting.
And worrying.
And starving.
And whining.
But enough about me...Chase was fine.
When the doctor finally surfaced, he said Chase had a cracked elbow.
Or was it a fragmented elbow?
Anyhoo...He was fitted for a soft sling.
And then he said the toughest five words ever.
"No. sports. for. 3. weeks."
Chase almost fell off the table.
I told him it could be worse.
He could be in a hard cast for 8 weeks.
He understood.
Or so I thought.
We came home and I heard the familiar sound of a ball bouncing on the concrete.
I opened the door.
There stood Chase dribbling the ball with his left hand while his right was tied up in a sling.
He didn't think that counted as No. Sports.
I am no psychic, but I am guessing these next three weeks are going to be fun!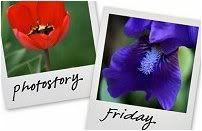 Hosted by Cecily and MamaGeek