I thought I would share a little fall art from my budding Picasso.
I love anything with his sweet hand prints.
I love this fall tree.


Check out Cole's fine cutting and gluing skills.
Almost on the lines is good...right?
I love it!

This is an interesting interpretation of a Pilgrim.
It is my invitation to the Thanksgiving Program.
I asked Cole why his Pilgrim had so many circles on his face.
He looked at me and said..."Aw Mom the two on either side of his face are ears and the two in the middle are his eyes."
Confused, I continued...." But Cole you have four ears and four eyes, why is that?"
Looking at me as if I had three heads he said, " But Mom you taught me that two plus two is four so I did everything in fours."
"Of course Cole that makes perfect sense."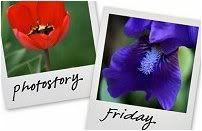 Hosted by Cecily and

MamaGeek