It seems we have lived on a baseball field lately.
Practices.
Games.
I took my new arrival with us for a little practice of our own.
I took 186 shots.
Some of my favorites were what was NOT on the field.
Cole and his little friend Holland, played on the bleachers.
Up and down.
Down and up.
Jumping.
Climbing.
Playing Tag.
I am now considering having the swing set removed from my backyard.
And installing bleachers.
They are apparently all the rage for a four-year-old.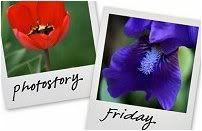 Hosted by Cecily and MamaGeek